The right cloud-based senior living software can help keep your staff happy and engaged, leading to improved experiences and a healthier bottom line for your independent, assisted living, and memory care communities.
---
Provide the Best Experience
Give your team the right tools and technology that streamline operations and allow staff to spend more time with residents.
---
Ensure Quality and Compliance
Minimize your risk of litigation by improving resident safety with nationally accepted standards and documentation policies.
---
Improve Your Financial Health
Track all services to increase revenue per resident while optimizing your occupancy by making more data-driven decisions.
---
Attract and Retain the Best Staff
Reduce burnout and overtime by providing your team tools that help reduce the amount of time spent on documentation.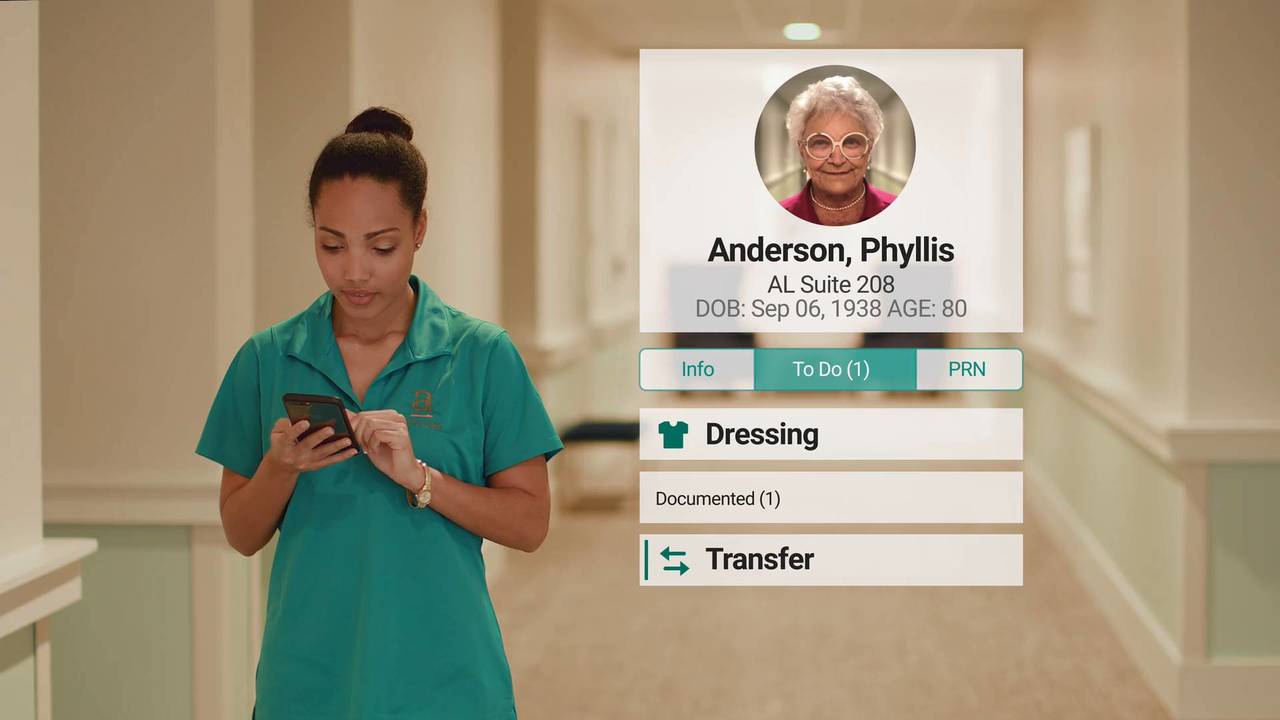 Introducing Companion for Senior Living
---
The mobile app that puts simplified services and medication delivery in the palm of your hand.
Senior Living Tools to Grow Your Community
Scheduling
Optimize your staff scheduling model by accurately assessing your requirements at both a team and individual level, and then aligning the specific needs for residents with the right staff that have the ideal skill set for each shift.
CRM
Improve your ability to turn leads into residents with a centralized system to manage and evaluate lead activity. Empower your staff to nurture leads and build a strong pipeline with anytime, anywhere access to leads and referrals via mobile devices.
Activity Calendar
Foster strong relationships with your residents and create personalized programs to ensure engagement with Resident Event Calendar – an application designed to not only create and view calendars, but to align planned activities with community resources.
Financial/Billing
Improve billing accuracy and your financial health with our integrated approach to connecting care. Make more data-driven decisions to grow your community with real-time visibility into your entire operations – services, billing, and administrative
Companion Mobile App
Empower your caregivers with an intuitive mobile tool that unifies the workflow for the delivery and documentation of services and medications. Easily capture and bill for scheduled and unscheduled services at the point of care.
eMAR
Gain real-time insights and accuracy in the medication ordering and distribution processes with our full medication and treatment administration system. An optional ability includes integrating directly with pharmacy partners using Integrated Medication Management (IMM).
Infection Prevention and Control (IPC)
---
With COVID-19, proactively assessing, managing, and controlling the spread amongst the senior population is top of mind for healthcare providers. With our infection prevention and control solution – IPC, your team is provided a clinical workflow and intelligence solution designed to empower assisted living communities to identify, manage, and report infections in real-time and to monitor antibiotic usage.
Benefits for Office and Administrative Staff
---
Automate your entire billing and payment process, from electronic statement generation to providing online payment options with Payment Portal.
Improve your sales and marketing decisions with a digital workflow which includes integration with our Customer Relationship Management (CRM) system.
Streamline your documentation process and improve accuracy with Document Manager which lets you create, personalize, send, track, and capture electronic signatures.
Make more data-driven decisions relating to accounting, staffing, overtime, marketing, and finance through intuitive executive dashboards.
Benefits for Care Providers
---
Spend more quality time with your residents and less time documenting scheduled and unscheduled tasks. Activities of daily living (ADLs) can be completed in less than 30-seconds.
Create an infection control dashboard to track and organize all information about infections within your community.
Reduce the burden of paper processes and referencing a resident's medication administration record (MAR) and treatment administration record (TAR) with eMAR.
Foster stronger relationships with all your residents by encouraging participation and engagement in personalized programs.
The industry-leading single, cloud-based platform that keeps your entire business connected and consistent.
One Platform. Many Capabilities.
Technology as a Differentiator
Powerful And Scalable
The most efficient and user-friendly way to take care of your administrative burden and stay ahead of compliance requirements.
Improve Efficiency
Reduce Risk
Increase Stakeholder Satisfaction
Simple pipeline management. Designed to be your sales and marketing departments' new best friend.
Manage your leads
Attract the right residents
Deliver the right care
Today, within a few minutes, any changes captured by the care team are quickly reflected on the billing end.
Faye Hoyte, Business Office Manager
---
Spring Hills Hunters Creek
PointClickCare has set us apart from our competition and in a small community like ours, referrals go a long way.
Heather Fritz, Administrative Director
---
Cedar Creek Assisted Living
The one thing that has impacted me the most with PointClickCare is the availability of information. I have close to 20 buildings to look after and I can't be in 20 places at one time. PointClickCare allows me real-time remote access so that I can use my time wisely when I walk into each building.
Missy Ebner, Regional Director of Wellness
---
Juniper Village
Improve Your Community and Drive a Healthier Bottom Line
Request a demo today and learn how connecting care services, billing and administrative processes across a single, cloud-based, person-centric platform can give you everything you need to succeed.